Christmas has always been my favourite holiday. As a child, the anticipation drove me nearly wild, and I don't think I've changed much as an adult. 😉
One of the things that I always wanted to have (but never got around to making) is an advent calendar. There's just something magical about opening a little door every day in those final weeks leading up to the big day. I've always bought the chocolate kind for my daughters, but I wanted something for me, too…something more enduring. And then I found this idea on a blog called The Space Between: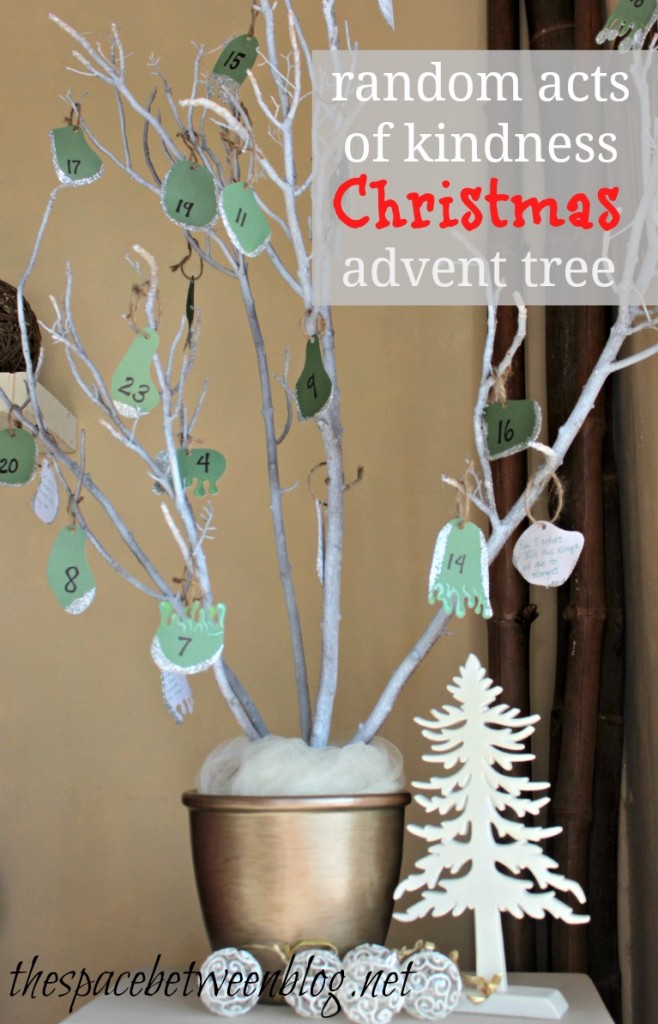 It's a Kindness Advent Tree, and I love it. I love the simplicity, the DIY capacity, and especially the idea behind it. For me, Christmas has always been about giving, and what better way to approach it than with an act of kindness every day leading up to it?
Of course, I discovered this idea only yesterday, and there are a couple of problems that immediately surfaced with regard to making it. First, it has snowed significantly here, and fallen branches are a little hard to come by (and taking branches from live trees would kind of defeat the whole kindness thing, don't you think?). And second, we have this to contend with:
I'm already anticipating spending most of my holiday retrieving Abigail out of the Christmas tree…I really don't think giving her extra dangly things on fragile branches will help much. 😉
But this advent tree isn't about the decorativeness, it's about the kindness. The giving. And as pretty as sparkly white branches and ornaments might be (and will be, when Abigail grows up!), they're not necessary. So I did this instead:
Sticky notes on my office wall. It couldn't be easier, and it still serves its purpose: reminding me to hold others in my thoughts as we head into the holidays. Today is the first day for my kindness wall, and this post is my first act of giving…because whether you celebrate Christmas or Yule, or Hannukah, or any other holiday, I'm hoping you'll make your own advent trees or calendars or sticky-note walls and spread a little kindness in your corner of the world.
I'm going to go cross off day one, now. You're welcome. 🙂